I have been working on "remodeling" the house I grew up in for X number of years. I say "X" — or, more accurately, write "X" — because I have no idea how long I have been remodeling. Let's just say it has been a long, long time. And for much of that time, I have been removing stuff, which often requires a hammer, a crowbar and gritted teeth. I'm just trying to get down to the frame so I will have a good place to start "rebuilding" from.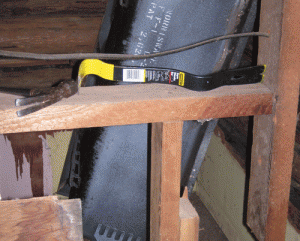 The idea snuck up on me. First, I just lived in the house. But after a while, living there became somewhat untenable. After the collapse of the insulation —the final result of a rodent infestation that began a half-minute after my folks stapled the last piece of fiberglass insulation in place in 1953 or 4 or 5 — there was no stove capable of keeping the place warm, though the steel plate model Harry Carlson built for my folks ca 1980 did a yeoman's service of keeping the place above freezing on January nights for about 20 years.
Slowly freezing to death is a great motivator
Once the winter heat efficiency of the place dropped below the requirements for normal human life — let's say 40 degrees Fahrenheit in the upstairs bedroom at midnight — I began thinking of remodeling. Which has come to mean, "rebuilding."
I've thought many times — monthly; weekly; OK, sometimes frickin' daily — of starting from scratch with a "rebuild," ie. tearing, burning, knocking the old place down. Family and friends have prevailed, exclaiming, "Oh, you can't do that. It's too pretty — historic — important. " Pretty is right. Pretty damned something. Pretty crazy.
Yeah. "Crazy" is a good word. What's extra crazy is that those who have told me that it's too "something" to burn — and dance around the fire — with a few notable exceptions, have done little to help in the process of not burning it down.
Who's the crazy one here? I vote for me.
But every once in a while, I see it done. Or part of it at least. One detail. One room or one corner of one room, or one blessed window. I see the French doors that lead into the kitchen. Or the stairway to the second floor. Or the big ripple rock in place that will be the front door step. Some minor detail that is likely a long time to come. And I go, "What the hell. It's a hobby. Right?"
Right.
So, hand me that hammer — and the crowbar, please — and stand back.