Blue Creek Press is a small company in a big state, headquartered in Heron, Montana. We provide publishing services of many kinds, including map brochures, collateral design, book design, full service subsidy publishing, text and photo editing services and software tutoring.
Blue Creek Press also has a number of books available, both fiction and non-fiction, including proprietary titles and children's books, as well as links through which to purchase subsidy titles previously published.
Blue Creek Press is a distinctly Western company, as the collection in the picture indicates. As such, much of what we do is about exploration and adventure. Come on in and explore our site.
Location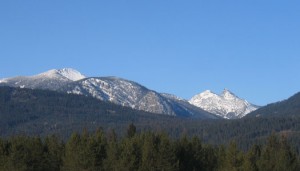 Heron, Montana, (home to Blue Creek Press) is just to the south of the proposed Scotchman Peaks Wilderness. The jagged peak on the right is Sawtooth Mountain. The bulky mountain on the left is Clayton Peak.
"August 20th, 1916. Looked over land for sale. Took a walk up the Blue Creek Canyon."                                                                                                       —Earl Clayton
Earl and Mariam Clayton settled the land at the mouth of the Blue Creek Canyon in 1917, naming their holdings the Blue C Ranch.  Their grandchildren and great grandchildren — the Compton branch of the family — have come to own "the Ranch," and several still live there, including Sandy Compton, one of the area's most respected writers. He has named his small publishing company "Blue Creek Press" in honor of the land he grew up on.

The feather in our logo is from a quintessentially American bird, the Northern flicker.
Sandy picked the flicker feather as our symbol after it chose him one magical day on a research trip for Side Trips From Cowboy. He has since found it highly appropriate. Flicker is, in certain native traditions, the keeper of rhythm, a fine totem for storytellers, the best of whom know the value of such. Part of our job at Blue Creek Press is to help people tell their story.
Northern flickers are native to all of North America and parts of Central America.