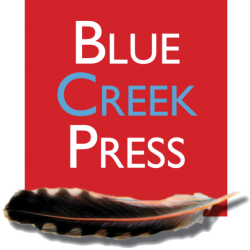 Blue Creek Press can make your project happen! Publishing services include editing, design, proofing and publishing of proprietary and subsidy books as well as collateral and advertising materials for business and non-profit organizations. We've been designing books, newsletters, logos, magazines and newspapers since 1995. We are specialists in production for on-demand books. We offer discounts to non-profits whose mission we believe in.
No job is too large or too small. Please don't hesitate to contact us for an hour of free consulting or a quote.
RATES
 
< 10 hours
10-20 hours
> 20 hours
Consulting (first hour FREE)
$40
$35
By bid
Transcribing
(3,600+ words per hour)
$40
$35
By bid
Editing
$50
$45
By bid
Proofing

$35
$30
By bid
Design
$55
$45
By bid
Publishing*
$40
$35
By bid
* +10% markup of outside services expenses
We are experts in on-demand printing, the printing revolution that lets you order one book at a time at a very reasonable wholesale rate. In addition, we offer photo editing services to complement our publishing and design skills. Review our work by visiting the pages listed below.