The Friction of Desire (2012)
+
Scars On Top of Scars (2014)
In The Friction of Desire, Larry Longquist — world traveler, depressive, recovering addict, and freshly 60 years old — cashes his tiny 401K and engages the services of Mary Magdalene Miller, M.D. specializing in psychiatry. Object — clarity. Dr. Miller has never had a client quite like Larry, who admits to being afraid to get out of bed some days. At the risk of finding out he's insane, Larry tells her not quite all there is to know about himself. In a series of tender, crazy, funny meetings — paid for in advance — Larry walks and talks his way into her heart. And, she listens her way into his. Read a review here.
Scars On Top of Scars is a bit more serious and less lyrical than the first, The Friction of Desire — and a lot less autobiographical. But its narrator, Mary Magdalene Miller the savvy therapist, thinks not. She keeps things interesting with an ocean of analogies, her confessions of growing disillusionment with a man she once had great hopes for, her own absolutely solid mental health and her fine wit. But how do you get a 220-pound ex-cop to give up acting like a scared five-year-old and grow up. Especially when his 55-year-old girlfriend is exactly the same age emotionally.
Meet Bill the boxer and his girl friend Angie, and discover why they stopped growing up, lo, these many years ago. And eavesdrop on "Dr. Mary" and these two as they try to become adults in a world that has not treated them well. Walk the beat that once was his with Bill and Dr. Mary, and learn how he got scars on top of scars.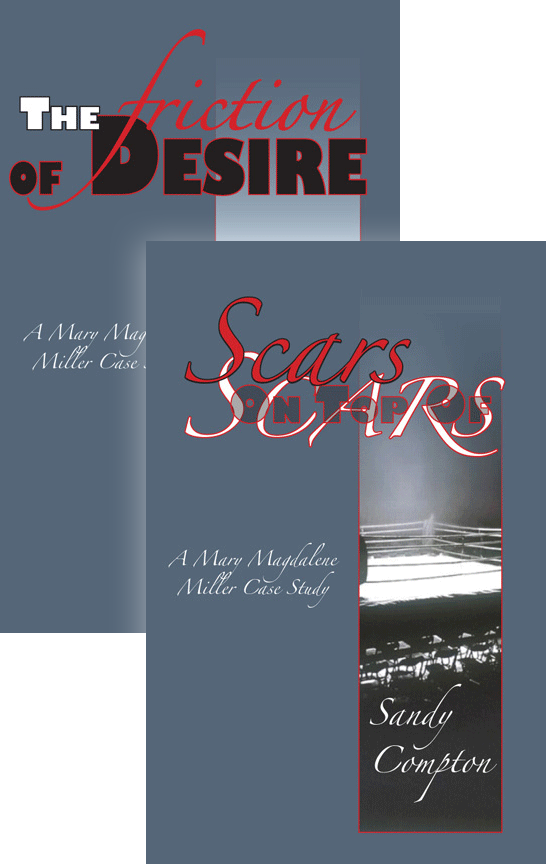 Special Offer: The Friction of Desire + Scars On Top of Scars

From $28.00 for $22.00