Of stolen art, murdered mountain lions, Chief Joseph of the Nez Perce, prisons with no walls and the Capitol Christmas Tree.
It is still morning in Nespelem, but just, and a little foggy near the hilltops yet. A southbound sun has about won the fight with the fog in spite of the resistance of a high, thin layer of cirrus that tells me it will rain at my house tomorrow. Up on this little hill overlooking the town, having made my semi-annual pilgrimage across the back-road West to the grave of Thunder-Rolling-In-The-Mountains, I am in the Nez Perce cemetery. I don't know this yet, but it's going to be an odd day — downright bizarre, in fact. Later today, with a glass of good red wine in a very good restaurant named Wild Sage in downtown Spokane, I will reflect on the day and coin the word "bizarrity" — "bizarreness" is just not enough noun.
I don't know this yet, either.

There is a Native man here, a veteran, his decorated black Eisenhower jacket tells me, who has come to honor friends gone on. Native soldiers take their status as veterans very seriously; they are proud to have served and they are not afraid to say so. This cemetery has many military headstones and today is November 11th, Veteran's Day. The place is rife with decorations.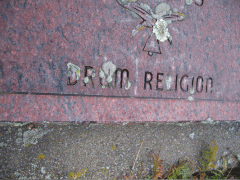 The man is crippled up with arthritis, but he gets out of his 1980s vintage Buick and walks among the graves carrying a tiny American flag. Several times, he makes a single clockwise 360-degree turn, the same direction that the sun travels across our skies. I recognize this as the end of a prayer in the Seven Drums religion.
Nespelem — pronounced neh-spee´-lum — is on the Colville Indian Reservation in north central Washington State. If this conjures up misty, mossy forests of huge Douglas fir, 80 inches of annual rainfall and the Space Needle, you have lit on the wrong side of the Cascades, 200 miles over that-a-way, where millions of folk clog up I-5 and US 99 and the Seahawks and Mariners play.
On this side of the coastal range, just south of the Reservation, the rain-shadowed northern Palouse grows hard red wheat on 18 inches of water in a good year; the population of Nespelem is in the low hundreds; and deer and porcupines play.
Thunder-Rolling-In-The-Mountains is one of several translations of the Nez Perce, or Ni Mi Poo, name, of Joseph of the Nez Perce. There are Thunder-Traveling-To-Loftier-Heights and other obscure versions, but I prefer Thunder-Rolling-In-The-Mountains, for I have heard such a noise at home in the green, rumpled western edge of Montana. I understand that sound, and understanding takes me closer to knowing the man who carried the name.
On his tombstone, his native name is spelled with a lot of hyphens: Hin-Mah-Yah-Lat-Kekt. The spelling preferred by his descendants, though, many of who live around here, is Hinmatoowyalahtqít.
Though I have heard his name pronounced, I can't tell you how to pronounce it, for I have no reference from which to begin. I speak American English, probably more than I should sometimes, a tiny bit of Russian (five words) and that is all. My circumstances have never pushed me to learn another tongue, as happened to Hinmatoowyalahtqít's children and grandchildren and great-grandchildren.
The real reason Hinmatoowyalahtqít of the Nez Perce is a hero
Hinmatoowyalahtqít may have understood English, but he never took up the tongue of his keepers. Marguerite, the woman who introduced me to Hinmatoowyalahtqít — and showed me to his grave for the first time — was happy she could say his name in his native tongue and say it correctly and that I, a white man, could not. "Thousands of years of genetics, you know," she said, with a pleased little smile on her beautiful, brown, bunched-up old face. This was something she had that I did not in a world where people who look like me have many things people who look like her don't. I didn't take it personally, and she didn't mean it that way — hers was one of the gentlest souls I have ever met. But she savored her joke on us all-white people
It was Marguerite who whispered during my introduction to Joseph, as if we were in the presence of royalty and she was making sure that I would pull no faux pas, "Some things they say he did, he didn't do."
Hinmatoowyalahtqít, Joseph, Thunder-Rolling-In-The-Mountains, was a man made famous by his purported (imagined? mythical?) role in the Nez Perce War of 1877. He is the man who is supposed to have said, "From where the sun now stands, I will fight no more forever." If you've heard that saying, and don't have a clue who said it, you are not alone. Not many who know to accredit that statement to Hinmatoowyalahtqít actually know who he really was. His story as we know it is more myth than we might like to admit in white history.
It's taken the better part of 15 years for me to learn a little of who he might have been, and I still can't say I know much. Hinmatoowyalahtqít's been dead since 1904, and he was from a culture I can only guess at the meaning of things in; a culture we've romanticized and vilified, as we often do with things we know nothing about. We've applied our own interpretation to a perspective it's impossible for us to have.
Nespelem is 15 miles north of Grand Coulee Dam. The dam, a sign at one of the viewpoint assures us, is the largest concrete structure in the world. Still. It's been in place since the late Depression, all the while supplying electricity to Bonneville Power Administration and irrigation to the farmers of the Big Bend. It was and still is a remarkable endeavor, literally changing the world for thousands of people by allowing them to make toast in the morning and harvest asparagus and tomatoes in the afternoon in a place that would hardly grow bunchgrass before the irrigation came.
Nespelem gets a tiny bit of the millions of megawatts generated at Grand Coulee, but not a speck of the water, for it's on the wrong side of the river, the Reservation side, the north side, perhaps not the best place in Washington State to live. Prisons are never good places to live, and reservations were most often, for all intent and purposes, built to imprison those "wild" tribes the newly arrived Western European culture feared for their savage resistance to being robbed of their lands and lives by people who wanted nothing more or less than everything the tribes had.
The Colville Reservation is home of the Confederated Colville Tribes, which include the Colville, San Poil, Lake and Nez Perce tribes and others. The Nez Perce came to the Reservation in 1885 after languishing in Oklahoma for eight horrible years, dieing wholesale of malaria, dysentery, starvation and other causes less physical than spiritual. Hinmatoowyalahtqít was not the only one of his band to die of a broken heart.
The Nez Perce weren't welcome when they came to Nespelem, as things were not so good on the Colville Reservation, either. But they were better than they had been in The Hot Place and the Nez Perce survived and still live there, though they have intermarried and differences between the tribes grow less distinct with each passing generation.
The Nez Perce cemetery at Nespelem sits on the shoulder of a small rise at the north edge of town. It comprises about an acre, 200 feet on a side perhaps, and is surrounded by a fence of field wire and pressure-treated posts. That is new since I began coming here eleven years ago, the only new thing, besides the graves that pop up in my absence each half year. The old fence of barbed wire now lies rolled up and rusting away in the grass along the north leg of the current incarnation. There is a green, metal walk-through gate at the southeast corner and a pair of larger gates in the west side, though just the one in the northwest corner gets much use. This is the entrance used by folks who wish to drive in, like the old veteran in his Buick and the hearses.
The cemetery is nearly always gray-brown when I visit, from either too much summer or too much winter. It is not kept like we keep ours, with well-irrigated, well-trimmed, green grass; flush-mounted headstones a mower can drive over; and stately trees in rows among the residents. Common plants at the Nez Perce Cemetery in Nespelem are burdock and spotted knapweed and the graves are kept mounded with black earth and river cobbles. The mounds serve in remembrance; many of the graves have no markers. Wooden crosses planted years ago are gone to the elements, time and the wind. Many of the graves are very small; child-sized, baby-sized. There are dozens and dozens growing up among the weeds.
Many other graves do have headstones, and many are decorated with flags, flashing pinwheels, religious symbols and statuary, balloons, vases once filled with fresh flowers, perpetually blooming plastic plants and personal items — dolls, shoes, toys, jewelry, clothing — that belonged to the dead or to those who now miss them. The dates of arrival on the planet of the graves' occupants and their departure are often very close together. Ten years. Two days. Four years. Two. 14. Three and a half. 40. 34. 33. 19.
One headstone has a single date inscribed, the one day in the life of a baby girl.
I have come twenty-two times to visit Hinmatoowyalahtqít — Joseph, I will call him from now on, being an incurable speaker of American English. Like the differences between the tribes who live here, the reasons I come have grown less distinct over time. But I still come. Joseph is one of my heroes.
Joseph was born in the spring and he died on the first day of autumn. I come in the spring and the fall to honor him in my own, oblique way, standing at his grave and marveling at the variety of things people leave in his memory: quarters, dimes and nickels and the occasional silver dollar; bags of tobacco, packages of Camel cigarettes and butane lighters; crystals, rocks, earrings, sage bundles, braided sweet grass, bracelets, books, cards, pictures, toy horses, beads, strips of leather, pistol and rifle cartridges, feathers, bear skulls, crosses, chains made of paper clips, shawls. I could go on. And on.
I bring gifts, too. Once you start coming, you can't not.
In an irregularly-spaced row running north to south through the military headstones where the old veteran is now saying his prayers and near the east fence are planted several shrubby, nondescript deciduous trees. In their line, at the foot of Joseph's grave, is an ancient elm, the survival of which amazes me as much as anything about this place. Six feet off the ground, it splits into two large trunks, each devoid of bark in places. One stretches over Joseph's grave and the other points down hill at the grave of another hero, Hemene Moxmox — Yellow Wolf — who was a warrior in the War of 1877 and lived to be an old man and told his stories to Luculus Virgil McWhorter. If you wish to begin to know Joseph and Yellow Wolf and their times and struggles, a place to start is in the works of L.V. McWhorter, which led me here in the first place.
From Yellow Wolf's autobiography, written with the help of McWhorter, I learned this: when the Nez Perce came back from Oklahoma in 1885, presumably headed for the Nez Perce Reservation in the Clearwater valley of Idaho as they were promised, the train stopped at Wallula Gap, where one branch of the railroad went east up the Snake River toward their old home and another went north toward the Colville Reservation. They were told that if they cut their braids and embraced Christianity, they could go back to their families and friends in Idaho. If they refused, they would be sent to Colville.
Joseph refused.
Joseph lost everything, save his faith and his integrity, the two most important things by which a man defines himself. So, I have remembered. That is why Joseph is my hero, and why I am standing under this old elm tree in the weak November sun watching the crippled-up Native man doing sunward turns at the graves of his friends, celebrating the same religion Joseph would not be bullied out of in 1885.
Out of the Nez Perce Cemetery and into surreality.
I am about to leave the cemetery to the veteran and head south when filtering up from the town comes the sound of a Christmas carol — The First Noel. My ears, outsized devices that they are, have gotten very cold, but they still work. It is a ragged rendition, like a community choir's first practice. It's bit early to begin pageant rehearsals; but, from the sounds of them, maybe not.
The song goes a verse, then another, and stops. The chickens that inhabit the yard of the third house down the one-sided street toward town take over the airwaves again. They have been crowing for all of the 11 years I have been coming here.
As I get in the car, chicken voices ringing in my ears, I think of the sign.
At the east edge of the highway, just north of its intersection with the paved road that runs east across the mountains to the communities of Keller, Republic and Enchilium, there is a gravel parking lot large enough for a semi-truck to swing around in and turn back south after delivering something to Nespelem. "It's not the end of the world," local jokers might say, "but you can see it from there." The next stop on that highway is Omak, and there are easier ways for a truck to get to Omak than through the Colville Reservation.
Near the east edge of that parking lot, a sign three feet wide by six feet high hangs from a treated six-by-six timber laid across the top of two other treated six-by-sixes set into the ground. The sign is two shades of green, pale and dark, the dark being raised relief letters against a light background that tell a story about Joseph of the Nez Perce — an abridged and highly inaccurate history that was brought here thirty or forty years ago with best intentions by the Washington State Highway Commission.
The first time I saw this sign I was somewhat amazed that it had no bullet holes in it. It is one of the few, if not the only, on the Reservation that has none. On close inspection, I found the reason: it's made of cast iron, and a finely executed casting it is. It was to be mounted into a stone-faced concrete monument that would have sported a drinking fountain in the midst of a patch of grass with an array of picnic tables around it, had it gotten built. But it didn't, and, finally, someone hung it between the treated posts and called it good enough — an abandoned public works project in an abandoned town full of abandoned people.
As I leave the cemetery, I am desirous to see that sign. I want to discover again what it looks like, for it is a concrete reminder of what is wrong with this picture, the portrait of US policy on Native peoples that is the reservation system, painted in the 1800s and now kept here in the closet that is Nespelem. I feel that if I set my gaze on the sign, something might be revealed to me. And by God, for once this week, I am right.
Let the bizzarity begin.
I come into the parking lot and find arrayed around the sign an encampment including school buses, the community ambulance, sheriff's deputies, Tribal police officers, Forest Service guys and gals and their big, shiny tanker truck reserved for fires and parades, the 11-strong all-white Grand Coulee High School band and a mixture of 150 white and Native folk milling about. I am flabbergasted.
Directly east of the sign is a bulky four-wheel-drive diesel pickup truck hooked to a gooseneck fifth-wheel flatbed trailer. On the trailer are two groups of Natives; four men surrounding a large drum which they are beating in good, steady rhythm and five young kids in traditional dress dancing to that rhythm under direction of an old woman I conclude must be their grandmother. She is wearing a sky-blue beaded buckskin dress.
Directly west of the sign, sitting on a semi-trailer with Alabama license plates, tucked neatly into a red, white, green and many-other-colored box — reminding me of a 70-foot, Christmas-wrapped bottle of Johnny Walker Red — is the Capitol Christmas Tree.
The tree is bound for Washington, D.C., 3500 miles from where it grew, to spend a few weeks of splendor in the Capitol. In a week or so, someone of importance will pull a lever or push a button or wave a magic wand; and the tree, covered with ornaments gathered from all over the country during the tree's sojourn, will be lit on the Capitol Mall. The ornaments are gathered by the tree's roadies, two men in a Winnebago acting as escorts, administering the stops and handing out Forest Service literature along the way and carefully packing away the ornamental offerings of each community in which they stop to let the tree rest from its long, long journey.
I morph from pilgrim to journalist and question the men in the Winnebago, a few of the folks in the crowd and a band member, a bored blonde boy who entertains himself by drilling one of his Converses into the gravel surface of the parking lot by grinding slowly around and around on one foot. Like the man I left at the cemetery, he turns clockwise.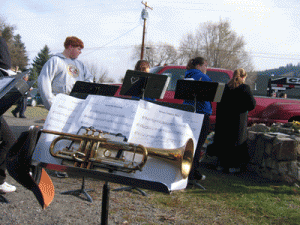 On his music stand, held against the breeze by the weight of his trumpet, is a selection of Christmas music: What Child Is This; Oh, Come All Ye Faithful; Up On The Housetop. Beyond the music stand, the drummers drum and the children dance with their sky-clad grandmother on the trailer. Their backs are to the sign and the Winnebago full of Forest Service literature and ornaments gathered by the tree's roadies. They face away from the tree and the box it lies in, "like a coffin," my friend Mary Jane will point out when I tell her the story. And, open for viewing.
The tree, which died for our pleasure and national pride, is traveling to Washington, D.C., where it will stand, not lie, in state on the Mall. Shouldn't it also then be interred at Arlington, with so many others who have died for the very same reasons, reasons the men who the crippled old veteran is visiting up there on the hill also died?
Just off my left shoulder, I can see the end of the branch on the elm at Joseph's grave, the one that points at Yellow Wolf's headstone. The field wire fence and veterans' grave markers loom at the top of the rise. Little, humped-up graves show me where children lie buried. But, from the sign, with its erroneous history, I can't see Joseph's grave.
It seems at this moment that tectonic plates of two hugely different cultures are intensely grinding on each other and the sign hangs between them. I'm thinking maybe a hole will burn by their friction through the casting, or some sort of human earthquake will break forth, a riot or mass demonstration or at least a woman keening in grief; but no one, save the guy standing behind the blonde trumpeter getting ready to play Up On The Housetop, seems to notice.
Part of the day's bizzarity is that the same guy, who never leaves home for a day or a week or a month in the back-road West without a notebook, has today left home without a notebook; and right now, I desperately want one. This fandango needs to be noted. I start for the car to go buy a notebook, but am further delayed by another round of bizarrity.
As I walk by the ambulance, a Native man sitting in the front seat with the door closed and windows up, cozy in his little steel living room, keys the microphone of the ambulance's public address system and begins one of the keynote speeches for this Christmas celebration-slash-powwow-slash-tree blessing party.
When the speech ends, for some reason, someone begins the Pledge of Allegiance. But, there is no flag to which we may address this pledge, so it is addressed instead to the red, white, green and many-other-colored box with the Capital Christmas Tree in it. Then, just when I think we are free to go, the Coulee City High School Band breaks into The Star Spangled Banner.
During these patriotic intrusions into the Christmasness or Nativeness or somethingelseness of this event, no one knows quite what to do. As the National Anthem plays, we try to decide whether to put our hats over our hearts or sing along or salute; and again, it seems to be the tree that we are serenading, as if we are honoring this casualty of Christmas being sent to Washington to stand in state in the Capitol Mall. It is another pivotal cultural moment, rife with obvious implications and potential revelation. For an instant, I think someone else might notice the colliding cultural tectonic plates, but the moment passes like a side note in a complicated mystery novel that might be a red herring or might be a route to the solution, but, which, we will never know because nobody in the book notices.
When the band begins Up On the Housetop, I've had enough. More than I need for my overworked brain to work on. I could have stood, in fact, a lot less. The cultural tectonic plate collision alone should have been enough to overload any guy with a pen and a notebook, especially if the notebook has gone missing. I escape across the highway to my car and head south. Enough of the bizarrity, already.
It follows me down the highway.
Escaping the reservation on wings of Steel
The Colville Agency is slightly larger than Nespelem, and certainly more affluent. Ten acres of powwow grounds fill the west side of the highway. Beyond that is the Nespelem Community Center. On the east is a collection of tidy federal buildings that mark the presence of the Bureau of Indian Affairs and a neighborhoodly looking series of streets with semi-modern ranch-style and split-level houses. Between these and the highway is a big playing field with bleachers.
The Trading Post Store is at the south end of the big field, set back from the highway by a parking lot the same width as the field. This is where I stop for a notebook.
The plate glass window in the foyer to the right of the store's entry door is replaced by a piece of half-inch plywood. The door into the store from the foyer is an automatic door that opens at the presence of someone in range of its electric eye. It has an eye itself, a round and silvery star of shattered glass in its lower half. The person who broke the plate glass also tried to break through the double-pane, shatter-resistance door. It did not happen. Instead, they ran off without whatever they might have taken, had they gotten in.
Once in the store, I find a notebook, not my favorite kind, but in desperate need of noting things, pilgrims-cum-journalists can't be choosers.
At the cashier's stand, a Native man in front of me has four quarts of "Steel" malt liquor. They are $1.50 each; $6.00 a gallon, just under twice as expensive as gasoline, by volume. There is a lot of malt liquor in this store, stacked in the aisles in cases. Lots of it. There is also a lot of cheap beer and wine that will never be served at Wild Sage.
Lots of it.
It's a market economy.
I might look out of place in the Trading Post Store on the Colville Indian Reservation, but not as out of place as the black man running the till. I would bet anything that he, with his earring and friendly, small city attitude, didn't grow up on the Rez, but it becomes apparent he's the store manager,.
To the man with the gallon of malt liquor, the manager responds to a question I didn't hear: "This takes the fun out of it." He's talking about the broken window and door.
"Did the alarm go off?" the Native man asks.
The manager looks at him, gives him change from a ten-dollar bill. "I'm not going to say," he says.
The Native man gives an ironic little laugh, as if he knows better than to ask, but he has to, just for form.
He takes his gallon of malt liquor and leaves.
The manager looks at me, holding my virgin notebook. "What can I help you with," he asks, and I hand him the notebook. He looks inside. Then he laughs.
"Oh. I thought you had a list of things you wanted."
I have a list of things, all right, I think, and I want to put them in that notebook.
"Nope. Just the notebook," I say.
I pay for my notebook, get in my car and begin out of the parking lot.
In a strip of land between the store parking lot and the highway a Ponderosa pine with branches reaching down nearly to the ground creates a sheltered place for a couple of folding lawn chairs that look as if they have become permanent fixtures. They are occupied by Native men, one of whom is the man who was in front of me in line. They are likely going to drink that malt liquor right there, waiting, perhaps, for something that won't show up — a ride out of here to somewhere where the world doesn't think so much about skin color, where store managers aren't so reluctant to answer simple questions. They are waiting for a ride out of prison, I think, and maybe that's where that gallon of Steel will temporarily take them.
On most of my journeys to Nespelem, there seems to be nothing new in this world. The old elm, the chickens and the sign at the highway — all the same. Sometimes, even the graves in the cemetery are the same.
It's not been one of those days, and upon reflection, I realize I was forewarned this morning as I drove here. Three miles this side of Shaw's fruit stand, the northernmost outpost of the Electric City – Grand Coulee – Coulee Dam – Elmer City – Seaton's Grove – Belvidere megalopolis (combined population ca 4,000), I found art in the desert; sculpture in the form of silhouettes of Native women with digging sticks.
After Shaw's, the highway runs through sage on a high bench above the Columbia. It was there this morning as I drove toward Nespelem and my encounter with the Capitol Christmas Tree that I saw the women.
I first glimpsed them peripherally. Out of the corner of my eye, they were real. When I swung and recognized them as sculptures, I was more amazed than I might have been if they were real, for they fit as if they had grown there, and they weren't there the last time I came to Nespelem. They are also beautiful.
For that reason alone, I determined that I would stop and have a look at them on my way back south; take the camera and wander out among them and see what they have to say to me. So, I watch for them now, ready to pull to the side of the road and climb through a barbed wire fence, if need be, to get up close and personal with them.
I spot them and as I do, a dirt road appears leading off the highway and through a gate in the fence with a metal cattle guard. There are no "No Trespassing" signs. I pull through the gate, park and find my camera in the pile of writer's stuff on the passenger's seat. To my left, about 15 yards out, lies a gut pile, the bloody entrails of a deer by the size of it, left there by the hunter who took the animal. I am not surprised, mortified or even offended, though I might have done a better job of screening it from the highway. Some people are surprised and mortified and offended by hunting, and much more so by offal left behind when an animal is killed, but it's hunting season, after all.
I get out and begin toward the sculptures, glancing at the gut pile as I pass.
Now, I'm surprised.
In the past ten seconds, the gut pile has mutated into the carcass of a mountain lion, bereft of its hide. I stare and try to decide whether I am also mortified and offended, but I'm so surprised that I can't. So, I set emotions aside and just look at this dead, rare critter.
Inspecting the carcass teaches me interesting things about mountain lion anatomy; that without its hide, a puma seems small, and except for the fierce, foreshortened, fang-laden face, almost delicate; that its muscles are long and lean with no fat and about the color of sushi-grade tuna; that its paws under the hide are heavy with cartilage and huge in proportion to the rest of it; that a mountain lion's tail is actually conical, starting thick and round where it hooks to the base of the spine and descending slowly and evenly in circumference to a sharp point of cartilage at the end.
Something more: It is confirmed that mountain lions bleed the same color as we do.
Out in the sage, the women call to me. I leave the dead cat and travel out to meet them. They are walking toward me, digging as they come, and they seem to be in a hurry, perhaps racing each other to gather the most camas or kous. By their expressions and stances, though, it is a joyful race of friends to an abundant harvest. They are smiling and I find myself grinning right back at them. They are beautiful. The silhouettes are dressed in Native hats and robes decorated with traditional patterns. They carry tall, t-shaped digging sticks and gathering bags over their shoulders. They are lovely.
They are cut out of 1/4-inch plate steel and the sculptor's eye was unerring. He or she used a plasma cutter that left no jagged edges and cut a very steady width. They are big, about six feet tall and welded to a piece of square pipe set into a post-hole filled with concrete. They are a permanent installation. Or so I think.
I stay until I feel the long drive home pulling. There are stops yet to make and some have deadlines. I begin back toward the car, cutting sprigs of sage to take home as I go. In the line of sculptures, I encounter an empty post-hole. I wonder if whoever made the sculptures plans to add more. But it appears something has already been mounted there. There is a ring of broken concrete around the hole. The evidence is that a sculpture was already cemented into this hole, but that it has been removed — forcibly.
I bite my lower lip and move on. Another empty hole. And then another. Now, my jaw is set and there are tears in my eyes. "Goddammit," sneaks out of me. Now I am mortified. Now I am offended.
I don't count the empty holes. I don't stop to contemplate the dead catamount. I get in the car, back around and shoot out of there. I can hardly stand to look at those three lovely leftovers of someone's months of work and love and effort. I run south out of that place; escape the prison and drive across the river downstream of the dam where on summer nights a laser light show throws images of flying eagles and our flag in full unfurl and huge speakers blare out "Coming to America;" and I try not to think about it too much, because there is only so much bizarrity that a guy can take in a day.
Mourning a mountain lion, missing sculptures and Nez Perce culture
An hour later, I am stopped under high-tension lines carrying 7200 volts each toward the land where the Seahawks and Mariners play. The metal towers that carry the wires have fascinated me since I was a boy, when they looked to me like super-men standing with their broad steel shoulders set, fist on their hips, braced to carry power across the land like a line of huge metal soldiers. A concentration of towers on the west side of the dam, linked to transformer farms at the top of the cliffs by long swoops of arm-thick cable, has drawn me into a photographic hunt at a gully where multiple sets of towers guide wires to the heights and then march off west. When I get out of the car, the wires are singing a wind-tuned, one-note, minor dirge; a keening. The wires seem to be mourning, making a sound I expected back at that sign; and at the Trading Post Store, at the resting place of the mountain lion, among the beautiful sculptures with their missing friends. This is the accompanying song of the colliding cultural tectonic plates.
Part of me wants to be indignant as hell about this, and rant about "our" mistreatment of "them," or "their" lack of care for "their" place, or something I can put a finger on and blame someone else for; but there is a growing part of me that knows things get in the way sometimes, things that can't be swept aside by will or wanting, things that stop us in our tracks and beat the holy crap out of us and make us wish our mother would have had a headache the night we were conceived. It is easy to see that things like that have happened here, but it's much more difficult to understand what really, really happened.
I just get in the car and keep driving.
And now, five hours later, I have driven back through the wheat country. My errands are done and I've sought out this very good restaurant and bribed my way in with a sprig of truly wild sage. The bartender brings my dinner, and I tell him I've been to Nespelem. He replies that he knows it well. He has a summer place at Omak, and drives through on a regular basis. I ask him if he's seen the sculptures. He says "No." He hasn't been to Omak for a few months, but he wants to know about them. So, I tell him about that part of my day, which I figure is about enough bizarrity for a busy bartender to handle.
When I tell him about the missing sculptures, he says, in an offhand way, "Well, scrap steel is going for 4 cents a pound right now."
It's a joke, and we both get a little laugh, but I'm thinking that the sculptures weigh about 150 pounds each. At 4 cents a pound, each would buy a gallon of Steel malt liquor. And, a mountain lion pelt might fetch hundreds of dollars; even one taken wastefully, with no care for what it means to be a mountain lion, much less to take one from the earth. In a prison, though, not much means anything except survival and escape. If the mountain lion was sacrificed to survival, perhaps the sculptures were sacrificed to escape.
Journalist's note:
On my 23rd journey to Nespelem, in April of this year, I stopped first at the site of the missing sculptures and the dead cat and found that all the women and the remains of the cat, save a single vertabrae, had gone missing. At Shaw's Fruit Stand, however, I asked about the sculptures and found out that there were originally six women, and the sculptor is a Native man named Virgil "Smoker" Marchand who lives in Omak. The missing women of last fall were not stolen, but pulled by vandals out of the ground with a four-wheel drive pickup and left lying in the sage. In some ways, this  seems even more bizarre than the bartender's theory about scrap steel prices, but they were recovered, and, with their sisters, they will be remounted in the near future.
I find this hopeful.
Read more about the Sandy Compton's travels through the Nez Perce story here.