"August 20th, 1916. Looked over land for sale. Took a walk up the Blue Creek Canyon."                                                                                                       —Earl Clayton
Earl and Mariam Clayton settled the land at the mouth of the Blue Creek Canyon in 1917, naming their holdings the Blue C Ranch.  Their grandchildren and great grandchildren — the Compton branch of the family — have come to own "the Ranch," and several still live there, including Sandy Compton, one of the area's most respected writers. He has named his small publishing company "Blue Creek Press" in honor of the land he grew up on.
Blue Creek Press edits, designs, and publishes proprietary and subsidy books, as well as collateral and advertising materials for business and non-profit organizations, including Montana Wilderness Association, Idaho Conservation League and Friends of Scotchman Peaks Wilderness. We are specialists in production for on-demand books. We offer discounts to non-profits whose mission we believe in.
Mission
Fun and financial independence through creative expression.
Location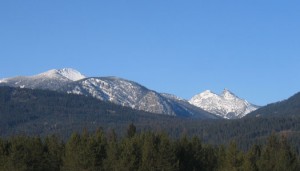 Heron (home to Blue Creek Press) is just to the south of the proposed Scotchman Peaks Wilderness (www.scotchmanpeaks.org) The jagged peak on the right is Sawtooth Mountain. The bulky mountain on the left is Clayton Peak.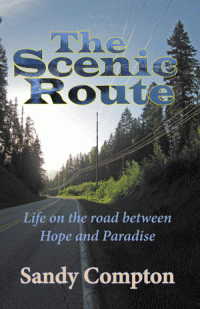 The latest book from Sandy Compton is fraught with dangerous ideas: slow down, move over and let the crazy culture we live in pass you by. You can also request this book from your favorite independent bookstore, by writing to books@bluecreekpress.com, or (if you insist) by following this link to Amazon.